Complete Radiators & Cores
We offer a wide range of precisely engineered Complete Radiators & Cores that help in meeting various performance levels and allied requirements.
All Type of On-Road, Off-Road Radiators & Industrial applications
Copper – Brass Construction
As per OEM & International Standards
For Japanese, American, European & Korean Vehicle Applications
Multi range of Tubes & Fin types
Latest Technology machineries & high Quality Assurance as per industrial certification standards
Modular Caterpillar Panels
Caterpillar Modular Cooling systems uses an exclusive two pass cooling system & increased cooling surface area to provide significantly more cooling capacity than conventional systems, making work in higher ambient conditions.
Easy To service, modular panels are convenient and easily help to reduce your down time and costs.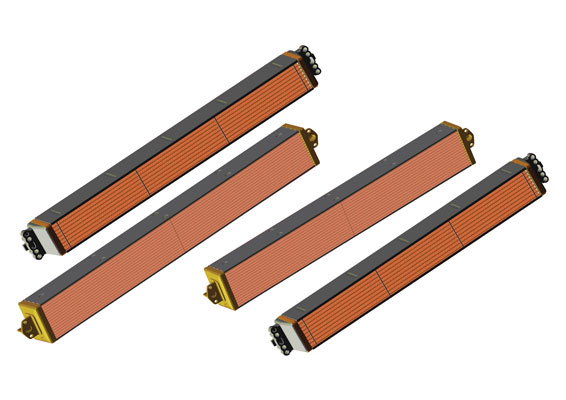 Copper Brass Locomotive Radiators
Copper Brass Locomotive radiators are made using special anneal-resistant alloys of copper and brass.
Features include
Superior Quality, longer life cycle
High performance, tolerance of elevated temperature
Economic Efficiency, less power consumption
Technological Leadership, advanced solutions conformable to all solutions
Environmental Sustainability, reduced carbon footprint
Corrosion Resistance
Downtime Cost
Durability
Dolphin's Horizontal Series
Horizontal Remote Radiators are suited to a wide variety of applications. Using a modular design method, ensures flexibility for different heat transfer surfaces such as water and oil.
Cooler performance is optimized by the use of 'draw-through' fans – This maximizes fan efficiency and air distribution across the heat transfer matrix.
The Horizontal Series offers extended service life, low noise levels, fan power levels, and the modular construction provides for easy maintenance and service activities.
Dolphin's Vertical Series
The vertical series represents a range of cooling units able to incorporate heat transfer surfaces suitable for water, oil, compressed air and process fluids.
The 'Axial Flow' arrangement uses a duct mounted fan which provides scope to cater for additional air side resistance, as encountered in canopies, plant rooms and noise attenuated installations.
This product series is of heavy duty construction and provides inherent flexibility in installation, whether by direct mounting to the engine skid, wall-mounted, or alternatively, in a free standing situation. The modular construction allows ready access for ease of servicing.
Earth Moving Equipment Radiators
Our vast range of radiators are used in various earth moving equipment's. We provide copper and brass brazed radiators to suit diverse requirements of our clients. These radiators are coated from inside-out to make them sturdy and corrosion resistant. The rows and columns of tube in the radiator are provided as per the requirements. Its cooling capacity ranges between 6fpi and 10fpi according to different applications.
Dolphin manufactures a wide range of earth moving equipment's radiators which include
Caterpillar Models
Komatsu Models
JCB Models
Detroit Models
KATO Models
Ford Models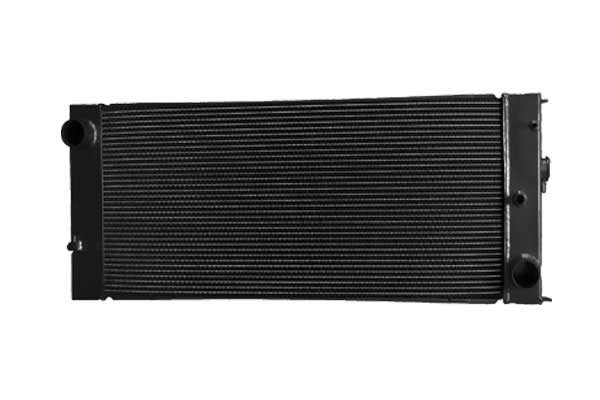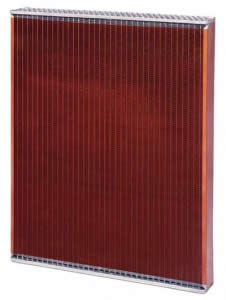 Many radiators can have the core replaced, this is required when the core is leaking badly, too damaged to be repaired, fins are corroded, or the header plate is cracked or damaged. Re-coring uses your old tanks, brackets and transmission oil cooler. Re-coring is quite often a much cheaper option than a new radiator.
We have the technical expertise to repair most copper radiators. We can repair or replace brass tanks and replace plastic tanks. Aluminum or copper cores with plastic tanks are the majority of radiators supplied in modern motor vehicles. Today's emission standards require higher engine temperatures which increase radiator contraction and expansion. These factors can lead to failures, causing costly engine or transmission damage. Cooling system's should be regularly cleaned, many radiator blockages or are caused by contaminated or dirty coolants. Never mix coolants!!! Faulty radiators are often caused by mixed coolants.